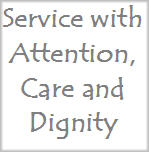 Small Pet Cremation.
Our small pet cremation is a bespoke service we offer directly to veterinary surgeries only. If you would like us to cremate your pet please give one of our local surgeries a call and they will organise this service for you.
Black Sheep Vets: 4 Meridian Centre. Belvoir Way. Louth. LN11 0LQ
Tel. 01507 609929. www.blacksheepvets.co.uk
James Street Veterinary Centre: James Street. Louth. LN11 0JW
Tel. 01507 602828. www.louth-vets.co.uk
Orchard House Veterinary Surgery: 8 Prince's Street. Metheringham
Lincoln. LN4 3BX. Tel. 01526 320387. www.orchardhouse-vets.co.uk
Vet on the Corner: Dog Kennel Lane. St Lawrence Street. Horncastle.
LN9 5DN. Tel. 01507 523519 www.vetonthecorner.com
H. Pawson & Son. Station Road. Donington on Bain. Louth. Lincolnshire. LN11 9TR.